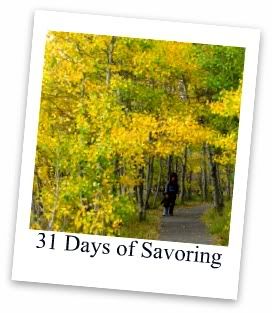 Part of Savoring the Fall has to be enjoying all the pumpkin flavors that surround us. And as such, this month will be filled with pumpkin recipes from beginning to end. And while you can't eat this first one, it will make your house smell fantastic!
Pumpkin Pie Play-doh
5 1/2 c. flour
2 c. salt
8 tsp cream of tartar
3/4 c. vegetable oil
1 container (1 1/2 oz) pumpkin pie spice
orange food coloring (2 drops yellow/1 drop red)
4 c. water
1. Mix all together.
2. Cook over med heat, stirring, until lumps disappear.
3. Allow to cool slightly.
4. Knead on a lightly floured surface to make soft. (VERY important that it's floured)
Ours didn't turn out quite as orange as I would have liked, but it does have a golden color similar to pumpkin pie. And it smells wonderful. Even now as we play with it, I have to remind myself that it's Play-doh to keep from eating it.
What fall crafts/activities are you doing with your kids?