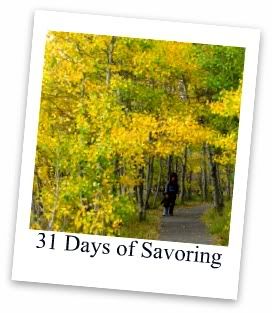 Oh! You know it's been a bad week when it's 9:30 pm and you're just getting your post written for the day. That's what I get for
defending Mondays last week.
Please forgive me if I'm not really "Savoring" today. Half way through October and I'm ready to bury my head in the sand. Anyone with me?
Last couple of weeks have been crazy. Noah turned six. We traveled to my sister-in-law's wedding that 3 out of 4 of us were in. And on top of that, my uncle's been in the hospital for almost two weeks so my mom and grandma are staying with us right now. Talk about being busy. Most days I sit down around 9 pm and wonder where the day went. Frankly, I'm the one who most needs to learn to "savor" these days.
Hope you don't mind if I keep this one short. Just wanted to let you know I'm still here and will TRY to post earlier tomorrow. :-)
Dinners:
Monday: Beef Soft Tacos (meat in the crockpot)
Tuesday: Tortellini and pesto
Wednesday: Taco salad
Thursday: ??? mmm...
Friday: Spaghetti fundraiser
Saturday: pumpkin shaped pizza (traditional pizza carving dinner)
Sunday: potluck
Projects I'm working on this week:
Scrapping June photos
Some baking
Taking kids to the pumpkin patch
Posts coming up this week:
(Hum... did I really commit to posting every day?)
Review of the wedding
Building family relationships
Writer's Workshop
More comfort food...
and a few surprise posts!