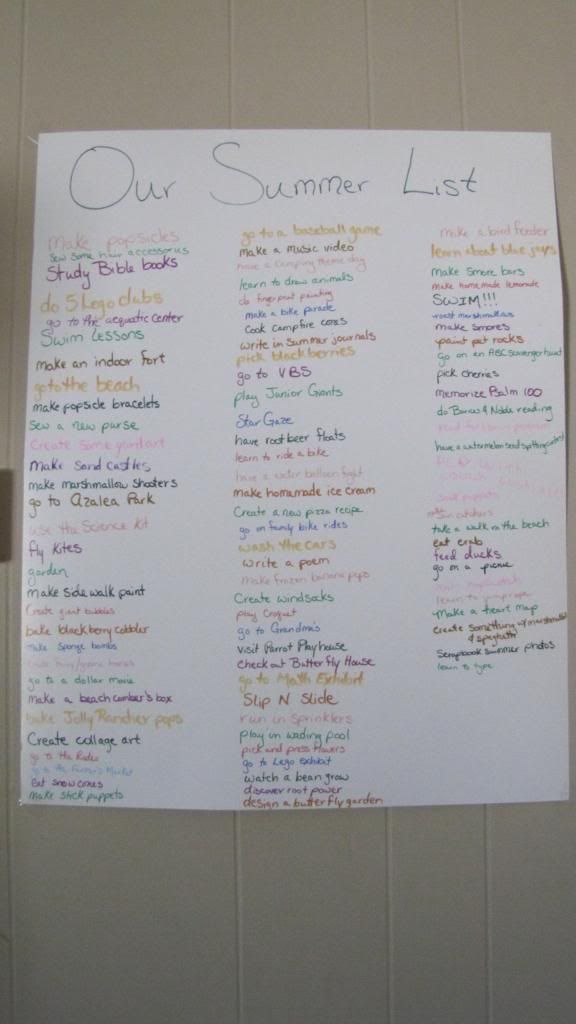 The endless days of summer lay out before us. Or loom before us, depending on your perspective. Actually this mom holds both. While I'm craving the freedom from formal book work and the possibility of lounging by the pool, I know that thebliss of those days will quickly wear off if we don't plan accordingly. So this past week, I sat down with the kids and we worked out a schedule and list that we could all live with. Here's what we decided on:
8am--Off to the gym
Noah has swim lessons 3x/week and the baby has visits 2x/week so we're out of the house early.
Mama will workout on swim days and the kids can play.
9am (or 10, depending on the day)-- Pool time
I factored lots of pool time in since we're be there already.
12 pm--Lunch time
I'll pack one on the days we plan on staying late at the pool or we can stop to eat at the park.
1 pm--Project time
I want to build in project time over the summer. Lydia wants to sew; Noah wants to catch up on Lego class. And since this is baby's nap time, it gives me a good chance to work on those projects with each kid.
2pm-- Quiet time
You don't have to sleep, but you do have to work quietly.
4pm--off to the gym (maybe)
On the mornings I don't get my workout, we'll go in the afternoons
Lydia has gymnastics in the afternoon once a week
Noah's thinking of taking cooking class once a week
Here's what's on Our Summer List:
1. Make popsicles
2. Sew some hair accessories
3. Study Bible books
4. Do 5 Lego clubs
5. Go to the Aquatic Center
6. Swim Lessons
7. Make an indoor fort
8. Go to the beach
9. Make popsicle bracelets
10. Sew a new purse
11. Create some yard art
12. Make sand castles
13. Make marshmallow shooters
14. Go to Azalea Park
15. Use the science kit
16. Fly kites
17. Garden
18. Make sidewalk paint
19. Create giant bubbles
20. Bake blackberry cobbler
21. Make sponge bombs
22. Create fairy/gnome houses
23. Go to a dollar movie (or two)
24. Make a beachcomber's box
25. Bake Jolly Rancher pops
26. Create collage art
27. Go to the Rodeo
28. Go to the Farmer's Market
29. Eat snow cones
30. Make stick puppets
31. Go to a baseball game
32. Make a music video
33. Have a camping theme day
34. Learn to draw animals
35. Do fingerprint art
36. Have a bike parade
37. Cook campfire cones
38. Write in summer journals
39. Pick blackberries
40. Go to VBS
41. Play Jr. Giants
42. Star Gaze
43. Have root beer floats
44. Learn to ride a bike (Lydia)
45. Have a waterballoon fight
46. Make homemade ice cream
47. Create a new pizza recipe
48. Go on family bike rides
49. Wash the cars
50. Write a poem
51. Make frozen banana pops
52. Create windsocks
53. Play croquet
54. Go to Grandma's
55. Visit Parrot Playhouse
56. Check out Butterfly House
57. Go to Math Exhibit
58. Slip N Slide
59. Run in sprinklers
60. Play in wading pool
61. Pick and press flowers
62. Go to Lego Exhibit
63. Watch a bean grow
64. Discover root power
65. Design a butterfly garden
66. Make a bird feeder
67. Learn about Blue Jays
68. Make s'more bars
69. Make homemade lemonade
70. SWIM!!!
71. Roast marshmallows
72. Make s'mores
73. Paint pet rocks
74. Go on an ABC scavenger hunt
75. Memorize Psalm 100
76. Pick cherries
77. Play with couch cushions
78. Make sock puppers
79. Make suncatchers
80. Take a walk on the beach
81. Eat crab
82. Feed the ducks
83. Go on a picnic
84. Learn hopscotch
85. Learn to jump rope
86. Make a heart map
87. Make a sculpture with marshmallows and spaghetti
88. Scrapbook summer photos
89. Go out to breakfast
90. Visit family out of town
91. Learn to type (Noah)