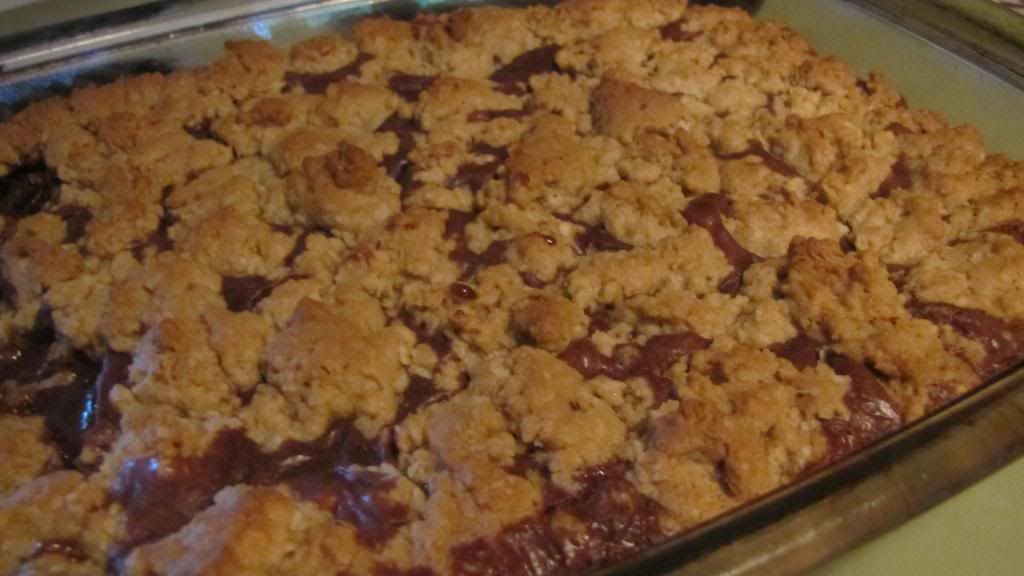 These Oatmeal Chocolate Reveal Bars are rich and creamy, and taste like an old fashioned oatmeal cookie. We couldn't keep our fingers out of them. Enjoy!
Oatmeal Chocolate Reveal Bars
3 c. oatmeal
2 1/2 c. flour
1 tsp salt
1 c. butter
2 c. brown sugar
2 eggs
4 tsp vanilla
1 (14 oz) can sweetened condensed milk
1 c. chocolate chips
2 Tbsp butter
1/2 c. chopped nuts (optional)
1. Combine oatmeal, flour, soda, and salt. Set aside.
2. Beat 1 c. butter for 30 sec; add brown sugar, eggs and 2 tsp vanilla. Beat until fluffy.
3. Gradually add dry ingredients until combined.
4. Melt together milk, chocolate chips, 2 Tbsp butter, and 2 tsp vanilla. Add nuts.
5. Press 1/2-2/3 of the cookie mixture into a greased 9x13 pan. Pour melted chocolate mixture over the top. Drop the rest of the cookie mixture onto the chocolate.
6. Bake at 350 degrees for 35-45 min. Cool and cut into bars.