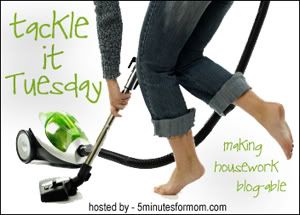 I'm just getting around to my tackle today and boy do I have a list. It's all those little things that just add up and never get done. I keep putting them off and then forgetting about them. So I have a bunch of little things that need to get done:
*plant strawberry plant
*repot plant from baby shower
*run 2 loads laundry
*meet with Sarah
*call coastal pastor's wives
*make list of local churches
*book retreat site
*drop off fruit at preschool
*make grocery list
*make muffins???
I have bananas going bad on my counter. One week my kids tear through them. And the next... well, I buy extra and now they're not touching them. I have to do something with them. But between that list and Love and Logic class tomorrow night,... well, maybe the muffins will wait another couple of days.
What are you tackling today?
To see what others are tackling, check out
5 Minutes for Mom
.