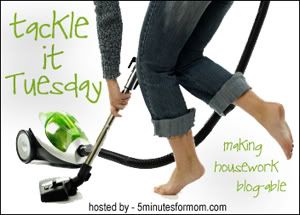 Yeah! My "Tackle it Tuesday" is simple, but I'm so excited to have it done. A few weeks ago, we had the trees in our front yard limbed. Nothing major, just some trimming. But in the midst of everything (diapers, laundry, housework), cleaning up the front yard has gone to the wayside. So this is the sight that greeted me:
Really all I had to do was clean up some branches and stack some rounds. Just a pretty cleaning up of the front yard. It took me no more than 10-15 minutes while the kids were napping, but boy does it feel good to have it done.
Here's the finished product!
See what others are tackling at
Tackle it Tuesday
and
5 Minutes for Mom
.