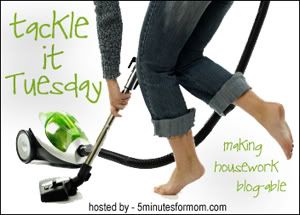 I love chocolate. I mean LOVE chocolate. So when I saw this recipe for
Chocolate Quickies Cookies
at
Chocolate on My Cranium
, I had to try them. They are super moist, super chocolatey, and super indulgent. I halfed the recipe and it's a good thing 'cause I think I ate most of them myself.
The serving size is accurate. I always get frustrated with recipes that say they are making six dozen and you end up with 2. But this recipe was accurate within a couple of cookies and that could be accounted for by the dough Big Boy and I ate. And when you're done mixing the dough, it is super sticky and hard to get off the beaters. So we lost a couple of cookies there.
And by lost I don't mean we lost them. They just found them way to my hips.
You've gotta try this recipe. Hope you enjoy it.
To see what others are tackling today, check out
Tackle it Tuesday
at
5 Minutes for Mom
.