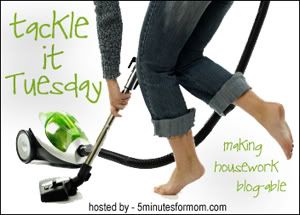 Wow! This has been a whirlwind of a week. So much so I haven't really been able to tackle anything... yet!
Here I sit, the rain pouring, thinking, "I don't really want to be bothered to do anything today." So no big projects on my list this morning. Rather I'm just going to focus on getting some odds and ends done and hope for the best in those big tackles next week.
This is what I'm hoping to get done today:
*pay a couple of bills
*find at least one class to take this spring
*work on at least two future posts
*mail my sister's birthday present
*start working on a workable schedule for the kids and I when hubby starts nights
(you know in the midst of feeding, clothing, changing, napping, and, well, generally raising two contributing members of society)
What are you tackling today?