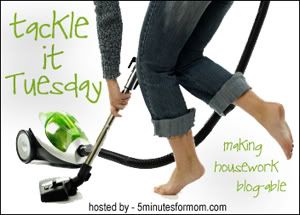 Are you ready for a big laugh?
Really?
Are you really ready?
I can't find my Tackle it Tuesday.
I know what you're thinking.... "Has this lady lost her mind?"
Well, kind of.
You see my Tackle it Tuesday this week was going to be to make, write and send Thank Yous for my one year old's birthday presents. So a few days ago, I printed out some cute Thank Yous that I found
here
. I spent yesterday afternoon writing in them while the kids played in the backyard and was getting ready to address them and send out photos today. Yeah, do you think I can find where I put them between yesterday and today? Not a chance.
So have I lost my mind? You could say that.
If you find it or my cards, could you let me know?
To see what others are tackling today, check out
5 Minutes for Mom
and
Tackle it Tuesday
.