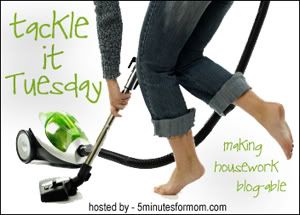 Sorry no pictures this week. I was going to take some pictures with my video camera and post them, but between getting kids bathed and put to bed, it just got too dark to do it. But ... such is life.
Hubby went into work early this morning and the kids and I spent most of our Labor Day at home. Piddling around the house. I wasn't into shopping and Big Boy had already said he just wanted to stay home and play. The kids played really well together and we built in a few projects into our day. Here's what we got done on a very productive Labor Day:
Ran a load of laundry and hung dried
Make two loaves of homemade bread
Make slushie dessert for freezer
Boiled potatoes (to be shredded for freezer)
Washed a ton of dishes
Planted strawberries
Watered tomatoes next door
Make a fantastic BBQ dinner
Will post my new bread recipe later after we have a chance to really try it out. Fingers crossed.

What are you tackling?