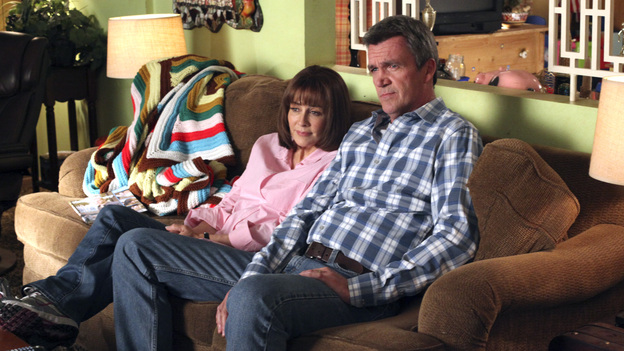 In our house, we are huge fans of the sitcom
The Middle
. Tracing the ever day life of the Heck family as they go through the ups and down of raising three kids, holding down two jobs, and just trying to survive. It's rare to find a TV show today where the language is appropriate, the father is engaged and not mindless, and the situations are still relatable and true to life.
The Middle
is such a sitcom.
But theology... come on! It's a bit of a stretch to take your theology from a sitcom, right?
As I was watching a couple of weeks ago, there was an episode that caught my attention.
The Prom
follows the Hecks as their oldest son is struggling with his choice of prom date, their youngest son is learning to branch out in relationships, and their daughter is trying to break into the social heirarchy of Junior High. Near the end of the episode, their old friend, Reverend Tim-Tom shows up to offer a word of advice for each of them.
As he turns to leave he says to Sue (the daughter): "Don't go thinking that any table is too good for you and your friend. Remember the most famous "A Table" of all was The Last Supper and everyone was welcome."
Sue: "But Jesus isn't in my lunch room."
Reverend Tim-Tom:
"Or is He?"
How many of us are living like Jesus isn't there? In the mundane of spraying out stains and washing the laundry? In the chaos of the witching hour when the kids are clamoring for a snack and we're just trying to finish dinner? In the carpool lane when we're late for work and still have to drop of the kids and the sped-o-meter reads higher than the speed limit?
What about when we greet our friends on a Sunday morning? What would He see? What would He hear? How would He feel?
Living in the light of the Lord's ever present reality, we can no longer act like he doesn't see. Like he isn't there. Psalm 139:7 reads, "Where can I go from your Spirit? Where can I flee from your presence?" There is no where.
When we walk the day... As we face new obstacles... When we enter a junior high cafeteria... He is there.
When we speak to our spouse... As we train our children... When we work at our jobs... He is there.
So let me ask you, where are you living like Jesus isn't present?
1
You have searched me, LORD,
2
You know when I sit and when I rise;
you perceive my thoughts from afar.
3
You discern my going out and my lying down;
you are familiar with all my ways.
4
Before a word is on my tongue
you, LORD, know it completely.
5
You hem me in behind and before,
and you lay your hand upon me.
6
Such knowledge is too wonderful for me,
too lofty for me to attain.
7
Where can I go from your Spirit?
Where can I flee from your presence?
8
If I go up to the heavens, you are there;
if I make my bed in the depths, you are there.
9
If I rise on the wings of the dawn,
if I settle on the far side of the sea,
10
even there your hand will guide me,
your right hand will hold me fast.
11
If I say, "Surely the darkness will hide me
and the light become night around me,"
12
even the darkness will not be dark to you;
the night will shine like the day,
for darkness is as light to you.
13
For you created my inmost being;
you knit me together in my mother's womb.
14
I praise you because I am fearfully and wonderfully made;
your works are wonderful,
15
My frame was not hidden from you
when I was made in the secret place,
when I was woven together in the depths of the earth.
16
Your eyes saw my unformed body;
all the days ordained for me were written in your book
before one of them came to be.