On our last trip to Ashland, Or, my husband and I found ourselves driving through the countryside and savoring our last morning away. As we wound our way back toward town, we realized we were hungry, but in the mood to try something new. My husband, being the beer connoisseur that he is, wanted to see if we could find
Caldera Brewery
. We'd heard about it, but hadn't found it in our travels yet. So it became our morning mission.
Located off the #14 exit on I-5 in southern Oregon, Caldera is hidden behind several hotels. Honestly, if we hadn't used Google Maps, we may not have found it. But once we were seated inside, we realized it sits perfectly on a hill to look over some beautiful scenery opposite the freeway. We opted for indoor seating as it was a bit chilly, but the patio seating was spacious and clean.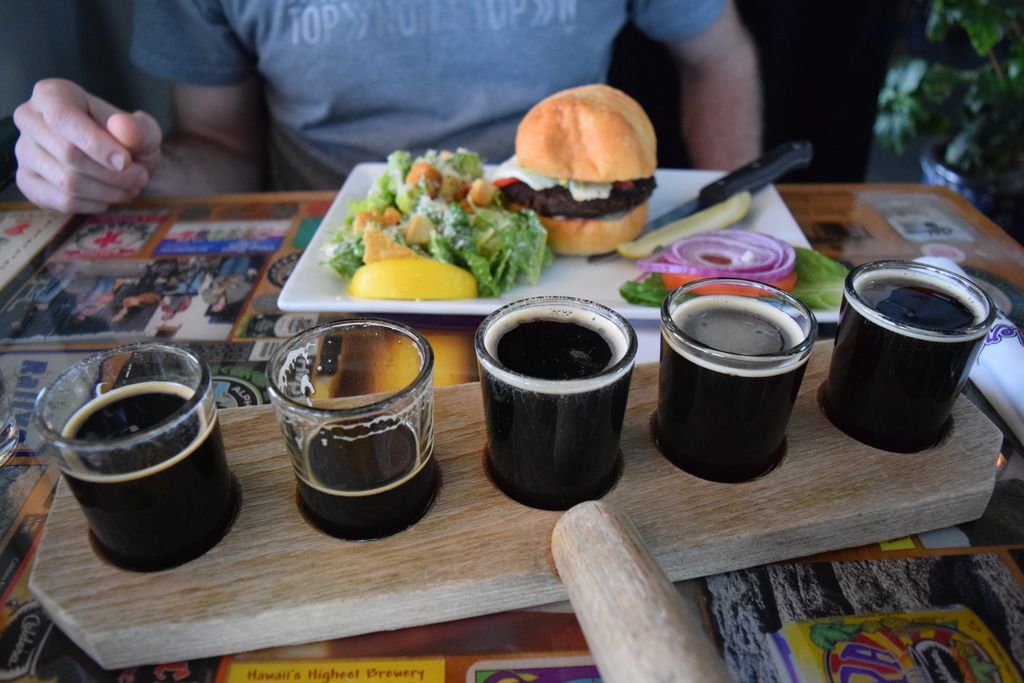 This location houses the brewery with 45 beers on tap. My husband was in heaven. The waitress suggested their sampler. With 5 beers to sample, he was quite happy with his choice and felt like he had a good taste of everything. For his lunch, he ordered Black Bean Quinoa Burger. Topped with guacamole and roasted red peppers, this burger held together well and was flavorful. Black bean burgers can be tricky. Cook them too long and they're dry. But this one was cooked just right. Paired with a Lemon Caesar Salad (other sides available), it was the perfect light lunch.
I opted for
Caldera's
home brewed Ginger Ale. I wasn't sure what to expect, but I love ginger ale, so I gave it a try. Wow! Light, refreshing, with a little bite... this ginger ale was amazing! For lunch, I ordered the Rogue Valley Salad. Organic mixed greens topped with candied hazelnuts, Rogue Valley blue cheese, seasonal fruit (mine had strawberries and blackberries) and dressed with Mogli Balsamic Vinaigrette, this salad was light, refreshing, and so filling. The portion was very generous and there was flavor in every bite. The only thing that gave me pause was the vinaigrette. I'm not a beer drinker and I was nervous about ruining the salad. But I couldn't have been more wrong. The Mogli Balsamic is both sweet and rich without being overpowering. A perfect compliment to the flavors in this salad.
Since we've visited Caldera, they've opened a
second location in Ashland's downtown district
. Although the menu is slightly smaller, there are still 20 beers on tap and a beautiful variety of items to please any palate. I honestly can't wait to return to Caldera. They have so many dishes we are anxious to taste. We will definitely be visiting again.
Other favorite Ashland restaurants: