Summer has arrived and it is HOT! HOT! HOT! Things are heating up around here and with that, we're escaping to the lake, the pool, the splash pad,.... anywhere there's water and cooler air. But what does that mean for coming home for dinner?
In a search for cooler meals, we came across these Chicken Pesto Sandwiches at
The Food Critic
. Paired with fresh fruit or green salads, these sandwiches have been a welcome addition to our summer menu.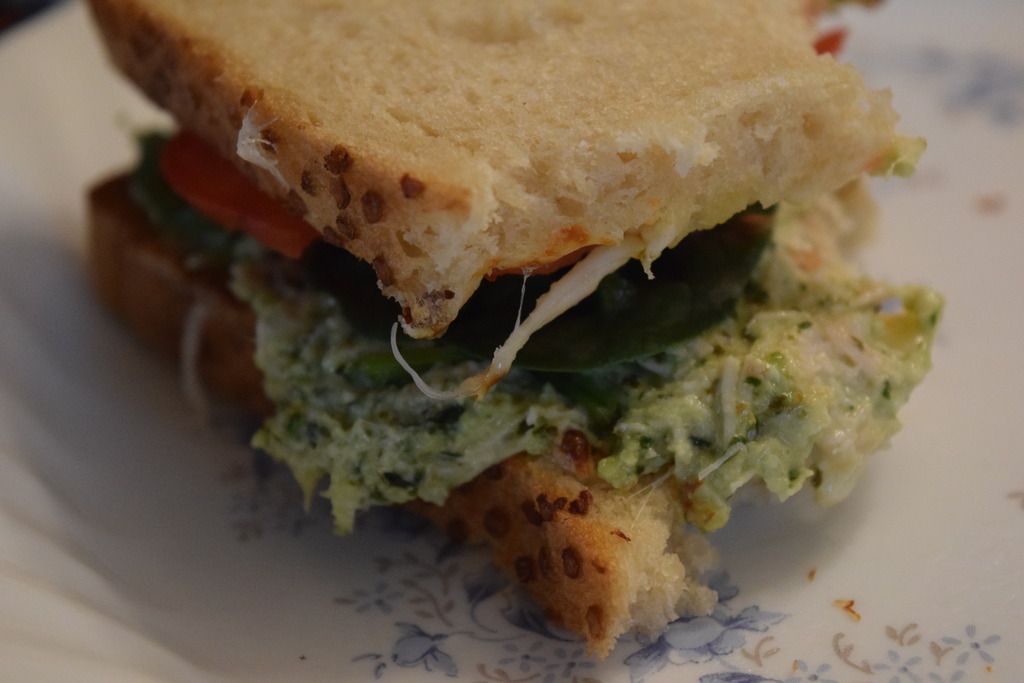 Chicken Pesto Sandwiches
2 (12.5 oz) cans of chicken, drained; or 2 c. shredded chicken
1/4 c. mayonnaise
1 c. fresh basil
1 clove garlic
1/4 c. grated parmesean
2 1/2 Tbsp olive oil
salt and pepper to taste
bread of your choice (we used sourdough)
Optional:
tomato
spinach
mozarella
1. Process the basil, garlic, parmesan, and olive oil in a food processor, adding salt and pepper to taste.
2. Combine with drained chicken and mayonnaise.
3. Assemble your sandwich as desired. We spread a little mayonnaise on our sourdough and melted the mozzarella on the bread. It came out toasty and creamy. So good! Then we layered the chicken with spinach and tomatoes.
I'm posting the original recipe, however, we weren't thrilled with the pesto portion of the recipe. The olive oil was too strong and we couldn't get the other flavors to come through. So for now, we're playing with the pesto portion, but very happy with the sandwiches.
You know it's a winner, when after the first bite, all three kids ask when we're having them again. Hope you enjoy them as much as we did!