My little Lydia and I both love to cook and bake. We have so much fun when we're in the kitchen together. So last Sunday, we decided we wanted to bake, and bake something yummy. We turned to pinterest, of course, and a recipe I'd long ago pinned. This Cinnamon Swirl Donut Bread was moist, soft, and so delicious. The kids loved and I can see it becoming a favorite in our home.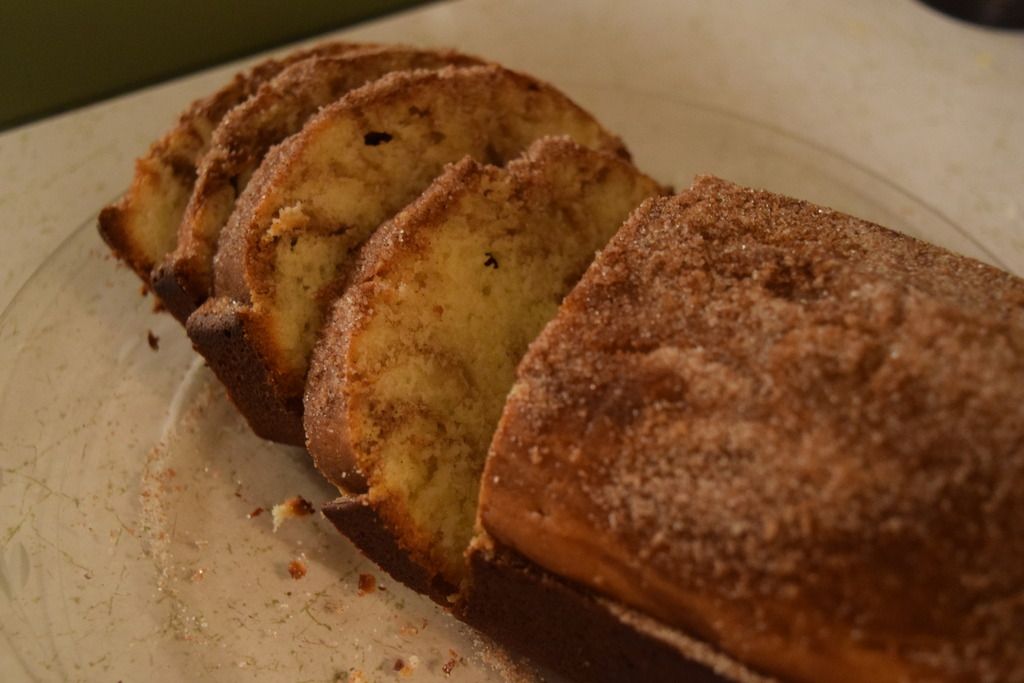 Cinnamon Swirl Donut Bread
*from Lauren's Latest
1/4 c. oil
1/4 c. softened butter
1 c. sugar
2 eggs
1 tsp vanilla
1 1/2 c. flour
1 tsp baking powder
1/2 tsp salt
1/2 c. buttermilk
1/2 tsp cinnamon
1/2 tsp molasses
coating:
1/2 c. melted butter
1/4 c. sugar
1/4 c. brown sugar
1/2 tsp cinnamon
1. Mix oil, butter, and sugar. Stir in eggs and vanilla. Slowly add in flour, baking powder, milk, salt, and butter milk.
2. Place 1/2 c. of batter into a separate bowl and mix in cinnamon and molasses.
3. Spray loaf pan with non-stick cooking spray. Pour 1/2 plain batter into pan, followed by 1/2 cinnamon batter, the second half of the plain batter, and ending with the final 1/2 of cinnamon batter. Swirl layers with a butter knife into a marble pattern.
4. Bake at 350 degrees for 45-50 minutes.
5. Prepare coating by melting butter in one bowl and mixing sugar and cinnamon in a second bowl.
6. After loaf has cooled for 10 minutes, dip the bread into the melted butter and sprinkle all over with the sugar cinnamon mixture. Slice into pieces and serve warm.