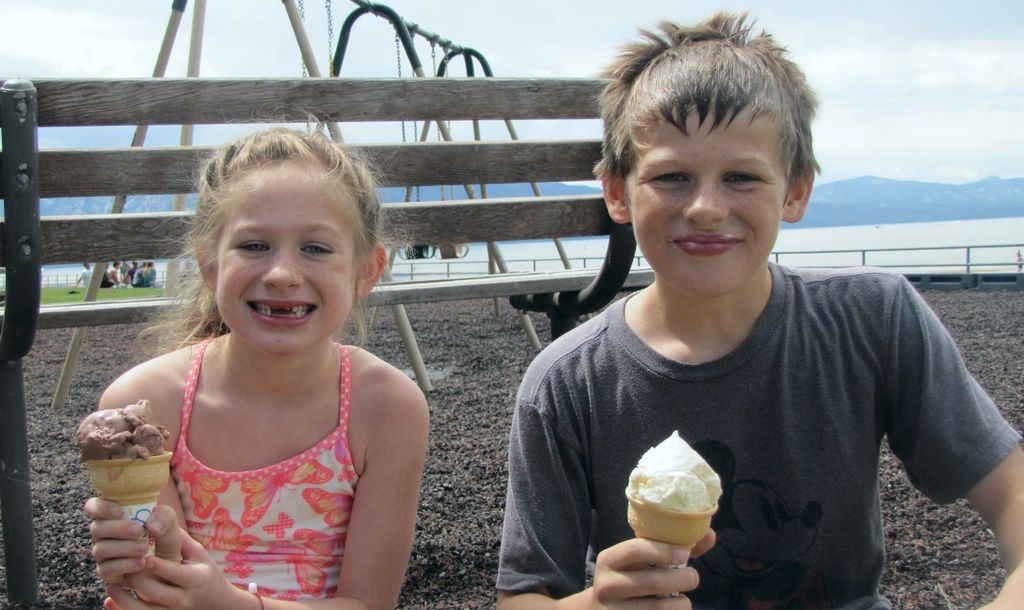 *My kiddos enjoying ice cream at Lake Tahoe (June '15)
Summer is right around the corner and with it, adventure awaits. For our little family of five, we've started planning trips to see the grandparents, hikes in our area, and lots of trips to the pool and parks. But if there's one thing I've learned, it's that you can never be too prepared with kids. So in an attempt to minimize the unexpected, I've come up with my Top 10 Items to Keep In Your Car This Summer:
1. Basic First Aid--Nothing fancy, but I pack band-aids, neosporen, and a spray cleaner for cuts and scrapes.
2. Extra Flip-Flops--I can't tell you how many times we've been out and someone's flip-flops have broken. So I try to keep 1-2 extra pairs of $1 flip-flops in a larger size in case of emergency.
3. Jumper Cables--Not the most pleasant thought, but absolutely necessary if you're thinking of making a longer car trip. Don't get stuck without them.
4. Picnic Blanket--We often find ourselves making last minute day trips to parks or hiking and it's nice to have the picnic blanket all ready packed in the car.
5. Sunscreen--We live where it's very hot and sunburn very quickly. Having extra sunscreen means we always have lots to reapply at the lake or around town if necessary.
6. Ziplock bags--Perfect for wet clothes or simply being carsick, I always keep several ziplocks stashed away in the car.
7. Roll of paper towels/napkins--To go along with the ziplock bags. Perfect for cleaning up messes and can be tossed in the ziplock when you're done.
8. Roll of toilet paper--Never get caught at an outhouse again without toilet paper. When we're traveling up to Grandma's house, there isn't a lot of places to stop for the bathroom. So we keep an extra roll of toilet paper in the car in case the outhouses are out.
9. Beach towels--Lots of trips to the pool and lake mean beach towels. So as soon as ours come out of the dryer, they go right back into the car.
10. Tampons/pads--I don't even want to think about getting caught away from home and needing one of these. Whether hiking, at the lake, or on a road trip, I try to keep several stashed in the car for an unexpected surprise.
Leave me a comment below and tell me, what are your Summer Must Haves for the car?