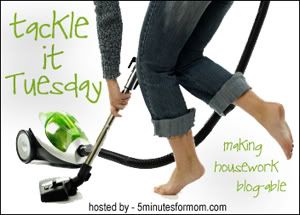 In the midst of packing for Thanksgiving travel, planning menus, making presents, etc, we are also planning a 2 year old birthday party. Baby Girl's birthday is Dec 21, can't get much closer to Christmas than that. So I like to get her birthday invitations sent out early as everyone is planning their holiday schedules. This year we're having her party on the 19th and so my plan has been to mail out the invitations with my Christmas cards this coming weekend. Those invitations were what I tackled this week:
Aren't they cute? We took a picture of her in a laundry basket with her Halloween costume on. Then matted it on pink paper and finally on a piece of black cardstock folded in two. I had the kitty stamp in my scrapbooking stuff and added a cute dimension to the front. The inside has the details.
I wised up this year and printed the inside off the computer. Added some cute colored hearts with a marker, and I'm done. Can't wait to see her face on birthday day.
For more
Tackle it Tuesday
, check out
5 Minutes for Mom
.