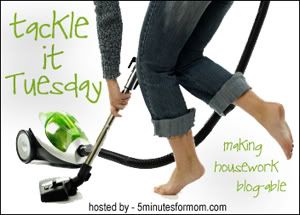 I love Tackle it Tuesday. It gets me motivated and gets things done in our house. Otherwise, who knows what would happen around here. I have a list this week. Don't I always have a list going somewhere? Or two, or three... or a dozen lists? Anyways... this is what I'm hoping to get done today:
Make a dentist appointment for Big boy


Work on Mom's Christmas present (no, I'm not telling you mom)
Make a new nursery schedule
Start working on the Christmas newsletter
Can you believe Christmas is coming up already? I'm so excited. We've moved toward doing more homemade items in the last couple of years and I really enjoy it. Can't wait.