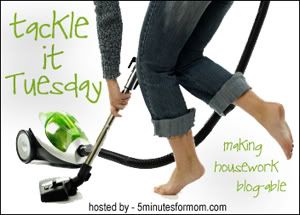 I have a great tackle this week...
Just need to gloat for a moment...
I spent last week at my mom's. Hubby was working funny hours and Big Boy was on Spring Break. The Men's Retreat was this last weekend so it all rolled into one to be a great time for an extra long visit.
One of the upsides of visiting Grandma...
I scrapped over 20 pages... 6 family reunion pages for our family album and over 15 pages for my Baby Girl's first year album. I just have birthday and Disney trip to scrap to finish her first year.
I'm so excited. It's been my goal to finish her first year album before she turns 18 months this June. So it finally looks like I'm on the right track.
To see what others tackled this week, check out
Tackle it Tuesday
at
5 Minutes for Mom
.