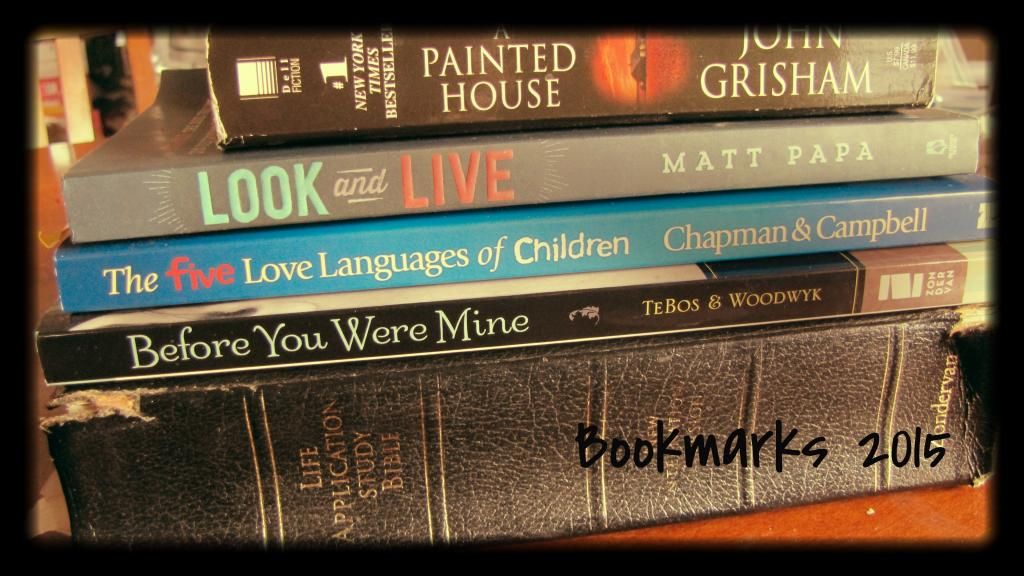 *Bookmarks is an online book club hosted at Creative2xmom. Here we discuss the books we've read in the past month as well as the suggested reading. Our
suggested reading
for September was Love Does by Bob Goff.
These are the books I read this month:
What Alice Forgot by Liane Moriarty--When I discovered that I was 8th on the wait list for this book, I realized it must have been creating more of a buzz than I thought. And when I finally got my hands on it and read it within a week, I realized why. The story of almost 40 year old Alice who bumps her head at the gym and can't remember the last 10 years of her life... waking up to find she has three kids and her marriage is crumbling... and there's a boyfriend in the picture and her best friend, who she doesn't even remember, is dead... and her life looks nothing like she thought it would. Sitting in my thirties with 14 years of marriage behind me, I found that I related to this book in both lovely and scary ways. Life is not what I thought it would be 10 years ago and that's both shocking and comforting. As for Alice, she must decide if she wants this 10 year later life... or if she's going to fight to turn back the clock.
The Phantom Tollbooth by Norton Juster-- I have to admit that my husband's been taking over much of the evening reading with the kids, but I have had a chance to sit in once in awhile and catch bits of the story. This one follows "bored" Milo who isn't content at any point in his life. Not content here and definitely not content when he gets where he's going. When he receives a mysterious package, it takes him on a whirlwind adventure though linguistics and word play. It was slightly over Lydia's head (7 yrs), but Noah loved it (9 years).
Our suggested reading for September was Love Does by Bob Goff-- This was another one that had a long wait list at the library and I was lucky enough to get it in time. A collection of essays, Goff sets about to show us what Love Does in every day situations. It's not always the extraordinary that wins out. Often it's the ordinary everyday actions that create a breathtaking life. And it's in the lives of the ordinary that God chooses to display his love. While I'm generally not a fan of essay collections, this one kept my engaged throughout and left me feeling challenged. It was eye opening to see the way that Goff wove a tale of action, purpose and love throughout the entire book. And to know that those same opportunities (and more) exist in my life as well.
So what are your bookmarks this month?
Tell us in the comments about the books you're chewing on. Or link up a review from your own blog. Let's share the books we're finding, good and bad. And give us your thoughts on Love Does by Bob Goff.


And come back Oct 30th as we discuss Sparkly Green Earrings: Catching the Light at Every Turn by Melanie Shankle.