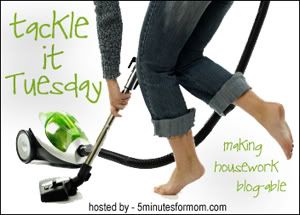 Here we are in the middle of a crazy, crazy summer. School is only two weeks away and we're cramming till the last minute. Oh, I can't wait for September. Hubby and I are going away for the weekend to celebrate our 8th anniversary which means Big Boy and Baby Girl are off to Nana and Papa's. And next week I'm taking the kids and going to visit Grandma. Should be crazy.
So what's not to tackle around here? Everything's up in the air. Our bathroom hadn't been cleaned for weeks and I can't believe what a difference it made to touch it up. I have laundry on my list as well today, along with packing the kids, and hostessing a women's retreat planning meeting. Anyone want to do some wild and crazy announcement promotion at my church? I didn't think so.
Honestly, I can't see far beyond the end of my nose these days. Kids, traveling, retreat planning, and trying to pick up the slack in the Sunday School. I'm so far behind it's ridiculous. And my poor blog hasn't seen any action in months. Sorry guys.
So I guess my tackle today is to getting some packing done, do some retreat planning, and trying and have as much fun as possible today before they head to Nana and Papa's tomorrow. Wish me luck.
For more
Tackle it Tuesday
, check out
5 Minutes for Mom
.